The Shakespeareances.com
Honorable Mentions
My Top 10 Non-Shakespearean Theatrical Moments
(productions through 2013)
[Go back to Honorable Mentions 1–5]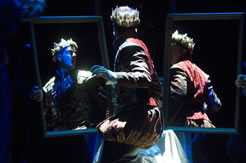 King James (John Tufts) is taken in by
Macbeth's
mirror trick in Bill Cain's
Equivocation
, produced by the Oregon Shakespeare Festival. Photo by Jenny Graham, Oregon Shakespeare Festival.
6. Equivocation, Oregon Shakespeare Festival, Arena Stage, Washington, D.C., 2011.
This fictional account of William Shakespeare being tasked by King James' spymaster Robert Cecil to write a play about the foiled Gunpowder Plot, but Shakespeare ends up writing Macbeth instead, scored on a number of levels. Bill Cain wrote a witty script, with jokes aimed at Shakespeare's career as well as bardolatry through the ages. The play packed an emotional punch, too, as Shakespeare tried to forge a relationship with his daughter, Judith, after the death of her twin brother. It also took an intellectual jab at the doctrine of equivocation—touched on by Shakespeare himself in the Porter scene of Macbeth—as it applied to the Jacobeans and is practiced by politicians today. The script was so enjoyable we bought a copy at the intermission. But what really knocked us out was the superb performances from the troupe of six actors, four of them playing multiple parts (Jonathan Haugen playing Cecil alone would make this list), climaxing in the staging of Macbeth before King James (with John Tufts playing both Macduff and King James). Should this be listed in the Shakespeareances list or Non-Shakespearean? Doesn't really matter; it would make both.Click here for a review of Equivocation.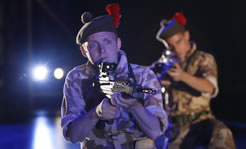 Cammy (Ryan Fletcher) leads other members of Scotland's elite fightign force, the Black Watch, in the play of that name produced by the National Theatre of Scotland. Photo by Colin Meams, Shakespeare Theatre Company.
7. Black Watch, National Theatre of Scotland, Sidney Harman Hall, Washington, D.C., 2012.
There are many powerful moments in this brilliant National Theatre of Scotland production, along with some funny moments, a few scary moments, and one intensely tragic moment. Such is war. And as a depiction of war, this production is as honest as they come, recounting the experiences of an elite Scottish regiment in Iraq. It is funny, it is scary, it is tragic, it is moving, especially its nondialogue scenes of the soldiers reading letters from home and the finale of the disintegrating formation. The play is flush with subtle ironies, but they all draw from our subconscious rather than being spelled out in the script. It is in a metaphysical space where Black Watch operates, between our assumptions and the soldiers' realities, between what we see on stage and what we feel in our own selves. The realities of those two realms never quite connect, which is the theme—and lesson—brilliantly explored in this gut-punching production. Click here for a review of Black Watch.
8. Fela!, National Theatre Production, Shakespeare Theatre Company, Sidney Harman Hall, Washington, D.C., 2011.
This was good-time entertainment, jiving to the music of Nigerian superstar Fela Anikulapo-Kuti's Afrobeat music, watching Sahr Ngaujah as Fela blowing his horn and charming us with his personality, and listening to the African-tinged operatic singing of Melanie Marshall as Funmilayo, Fela's mother. All that alone would have put this production on this list. But couple it with the story of Fela's fight against dictatorial and big-business repression and the staging of one scene that left many in the audience in real tears, and Fela! stands out as one of our favorite outings in the past few years in the categories of theater and concerts. Despite my love of all kinds of music and my background (long ago) as a music critic and entertainment reporter, I had never heard of Fela before attending Fela!. I walked out a fan of the man and his music—and still jiving to the memory days afterward. Click here for a review of Fela!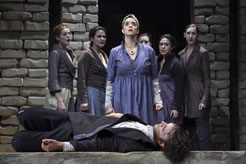 The Chorus stands behind Electra (Holly Twyford) and the sleeping Orestes (Jay Sullivan in the Folger Theatre production of
Orestes
. Photo by Carol Pratt, Folger Theatre.
9. The Chorus in Orestes at the Folger Theatre in Washington, D.C., 2010.
This Anne Washburn translation of Euripides' drama was billed as a "tragic romp," and doing much of the romping were five actresses—Lauren Culpepper, Rebecca Hart, Marissa Molnar, Margo Seibert, and Rachel Zampell—playing one character, Chorus. The fivesome spoke every one of their lines in perfect unison, all pauses and inflections perfectly synched. They maintained this perfection whether they were standing together as a group and looking at each other or positioned at five different places on stage looking in five different directions. They sang heavenly choral music, and they performed a rap. In Greek, no less. These five ladies' single trackin' flow, melted our hearts with their witchin' Greek show.Click here for a review of this Oreste.
10. The Robben Island Bible, The Folger, Washington, D.C., 2013.
This was a staged reading of a script that was drawn verbatim from interviews writer Matthew Hahn conducted with political prisoners who had been held at the notorious South African prison during apartheid. The play's title is the name given to a copy of the Complete Works of William Shakespeare, smuggled into the prison and passed around among the prisoners, who picked out and signed their favorite passages. Using four trained actors supplemented by one academic, each with script in hand, this was not really a production, yet the reading was theatrical in the performances of the actors playing the various prisoners and authority figures. And the play itself—though vebatim transcripts of the interviews—provided entrancing drama. We heard Shakespeare's lines resonate with deeper meaning than we ever knew before, and we got a glimpse into the world and personalities of the victims of apartheid, of which Nelson Mandela was one. Click here for a review of The Robben Island Bible.