The Shakespeareances.com
Honorable Mentions
My Top 10 Non-Shakespearean Theatrical Moments
(productions through 2011)
1. Les Miserables at the Palace Theatre, London, 1986.
British audiences do not, as a rule, give standing ovations. In the three years I lived in England and the three extended visits when my parents were living there, I saw a total of four standing ovations. One was for Sir Laurence Olivier as he entered the National's Lyttleton Theater to watch his wife in Mrs. Warren's Profession. The second was for choreographer Sir Frederick Ashton when he walked onto the Convent Garden stage during a curtain call after one of his ballets. The third was during Les Miserables, at the interval just as the cast finished singing "One Day More." The fourth was at the end of that same Les Miserables. For my own part, I was in tears both times, and a few other times during the musical, too, especially at "To love another person is to see the face of God." To watch this musical or even to listen to the complete symphonic recording of it is to know heaven.
2. The Lion King, New Amsterdam Theatre, New York, 1999.
Of course, it was sold out. Our hotel concierge, though, said we could stand in line to get returns, so after a day at, fittingly, the Bronx Zoo, we got in the line outside the theater some 2 1/2 hours before the doors opened. Amazingly, we inched all the way up to the ticket window and snapped up front-row balcony seats at $85 per. Just five minutes into the show, every minute of the wait and every cent of the tickets had been paid back fivefold as the puppet animals made their way through the theater, paying homage to the birth of a new lion king to an Africanized version of Elton John and Tim Rice's "Circle of Life." The rest of the show kept delivering, too. The Broadway Cast recording of The Lion King is more than just part of our Elton John collection: it's one of my favorite albums, always rekindling the awe of what I consider the greatest five minutes in musical theater history.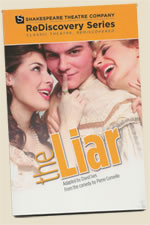 3. The Liar at the Shakespeare Theatre Company's Lansburgh Theatre, Washington, D.C., 2010.
We were laughing for almost three hours straight. And when I say that one of the night's biggest laughs came on the line "You may be a bivalve, but you are my valve," just trust me that we were laughing not because this was a laughably bad play but because that line so cleverly fit the characters and moment perfectly. This was one of those "you had to have been there" funnies I just can't adequately describe; it's kind of like trying to explain the humor in SpongeBob SquarePants to people who've never seen it (and some who have seen it, for that matter). Yet, this was a French classic, the original by Pierre Corneille liberally adapted by David Ives, though he maintained much of the plot and the rhyming couplet verse structure. This production also featured the best swordfight I've ever seen staged—without swords. Dorante, the title character played by Christian Conn (no kidding), is such an expert at lying he convinces a hot-headed rival (Tony Roach) by verse that they are dueling though neither has pulled out his sword. OK, you had to have been there. [To read my attempt at a review of this production of The Liar, click here.]
4. Anthony Hopkins in Pravda at the National Theater, London, 1985.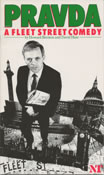 Before he was Hannibal Lecter, he was Lambert Le Roux. In Howard Brenton's and David Hare's bitingly funny play, the South African Le Roux is a Rupert Murdoch–like newspaper mogul who has taken over a couple of London's daily newspapers. Hopkins' performance was so commanding, I found myself for months afterward unwittingly slipping into his stance (legs apart, feet pointed outward, ramrod straight back Pisa-leaning forward), and even his speech (with guttural growl and slightly sinister lisp, ending each phrase in an upward lilt and turning every sentence into a truth-impenetrable proclamation). This was his first of a three-play engagement at the National Theatre; he followed it with an awful King Lear but concluded it with the great Antony and Cleopatra opposite Judi Dench (No. 4 on the Top 40 Shakespeareances). I've seen many of Hopkins' movie roles, including his award-winners, but his Antony was greater than any of those, and his Le Roux was greater, still.

5. Equivocation, Oregon Shakespeare Festival, Arena Stage, Washington, D.C., 2011.
This fictional account of William Shakespeare being tasked by King James' spymaster Robert Cecil to write a play about the foiled Gunpowder Plot but writing Macbeth instead scored on a number of levels. Bill Cain wrote a witty script, with jokes aimed at Shakespeare's career as well as bardolatry through the ages. The play packed an emotional punch, too, as Shakespeare tried to forge a relationship with his daughter, Judith, after the death of her twin brother. It also took an intellectual jab at the doctrine of equivocation—touched on by Shakespeare himself in the Porter scene of Macbeth—as it applied to the Jacobeans and is practiced by politicians today. The script was so enjoyable we bought a copy at the intermission. But what really knocked us out was the superb performances from the troupe of six actors, four of them playing multiple parts (Jonathan Haugen playing Cecil alone would make this list), climaxing in the staging of Macbeth before King James (with John Tufts playing both Macduff and King James). Should this be listed in the Shakespeareances list or Non-Shakespearean? Doesn't really matter; it would top either list.[To read my review of this production, click here.]
[Go to the Honorable Mentions 6–10]