Alternate Truths

That my son is making his New York directorial debut with this presentation of William Shakespeare's Measure for Measure does not factor into my evaluation of the production. What does matter is that I have been privy to his thinking on this play from the moment he broached it with me even before he moved from Anchorage, Alaska, to New York five years ago. Some of that thinking I spurred (not a lot—he's far smarter and a much more astute Shakespearean than I am). Thus, it is not in my role as father but as a reviewer more enlightened on this production than usual that I offer my evaluation of what turned out to be one of the most profoundly relevant renditions of Measure for Measure I've seen. For the complete review, click here.
A Thriller at Every Turn

As Shakespearean theater fans, we had one significant reason to see the Jackie Maxwell–helmed production of Lillian Hellman's Watch on the Rhine at Arena Stage in Washington, D.C.: the actor Andrew Long. It was my wife, Sarah, who saw him in a production of Hamlet at the Alabama Shakespeare Festival in the mid-1990s and became an instant fan. We've since seen him perform several times in DC and New York, and it was because he took on the role of Kurt Müller in Watch on the Rhine that Sarah insisted we see the production. I certainly benefited from her strong-arming me, as I ended up enjoying a gripping yarn and its singularly realized characters portrayed by an outstanding cast, including Long: As good as he's been every time I've seen him, this particular performance convinces me why Sarah was so taken with his Horatio all those years ago. For the complete review, click here.
Textual Conundrums

A soldier in a World War I army overcoat and gas mask stands guard on a platform above King Edward IV presiding over the signing of peace pacts among the factions in his court. Lord Rivers is gassed to death, rather than losing his head, at Pomfret. Young Duke of York plays with a toy Red Baron triplane. Preshow entertainment features music hall songs from the 1910s and '20s. This is the world of William Shakespeare's Richard III at the Chesapeake Shakespeare Company. The company's founding artistic director, Ian Gallanar, first staged his version of Richard III in 2012 as a movable production at CSC's then primary venue, the Patapsco Female Institute Historic Park in Ellicott City, Maryland. He's now revived it in the company's new downtown Baltimore theater with many of the same actors reprising their roles, most notably Vince Eisenson as Richard. Five years on, however, the production seems thematically out of sync, if not with the times at least with itself. Some character portrayals don't line up with Shakespeare's text, in part because of unusual choices in cuts, while a lack of consistent vision results in dramatic opportunities going by the wayside. For the complete review, click here.
The Women of Troy Speak Us Home
Euripides' composition of The Trojan Women in 415 BC might have been aimed at political authorities in his Athens, but his play proved prescient for today's world, as evidenced by Taffety Punk Theatre Company's decision to switch from Shakespearean fare to the Greek tragedy for its annual all-women Riot Grrrls production. Certainly, the cries of justice from the defeated and disenfranchised women of Troy echo down through the ages and create a gripping effect in the peformances of a new generation of Riot Grrrls. However, I'm not convinced the play's real message is being heeded.For the complete review and commentary, click here.
His Life in His Time
It is the penchant of critics, fans, and conspiracy theorists to look for the man William Shakespeare inside his works. However, the man himself is not necessarily in his plays and poems. The man's world is. Taking up residence inside the plays and from that perspective studying the external environment of the playwright could provide a more illuminating biography. Noted Shakespearean scholar James Shapiro does just that in his latest outing, The Year of Lear: Shakespeare in 1606. He studies three plays Shakespeare likely wrote that year and reveals how they reflect on the events and social attitudes of one of the most pivotal 12 months in English history. By tying those events and attitudes to the chronicled evidence of Jacobean theater operations and the documented record of Shakespeare's life and career, Shapiro shows us the playwright at work. Along the way, you'll learn about such epochal events as the Gunpowder Plot while glimpsing into the day-to-day activities of Shakespeare himself. To continue, click here.
The Novelization of Great Theater
We are about to hear and see The Sun Also Rises exactly as Ernest Hemingway wrote it in 1926, though trimmed to fit into just over three hours' traffic on the stage (including a 15-minute intermission). Mike Iveson plays Jake Barnes, the novel's protagonist and narrator, and starts off with the first sentences in the book. In addition to descriptive prose, Jake inserts even the "I said," and "he said," attributions in the dialogue. At first this might seem to be nothing more than storybook reading with actors providing the tale's visuals rather than pictures to show the assembled crowd. However, The Select (The Sun Also Rises) is less about Hemingway than it is the Elevator Repair Service (ERS), the cutting-edge New York theater company staging this production in a month-long residence at the Shakespeare Theatre Company in Washington, D.C. The company uses a meta-theater aesthete to expand the dimensions of stagecraft and audience-performance dynamics in order to blend the fictional reality of the play with factual realities of playmaking, creating a more comprehensive theatrical experience. By the end of The Select it's so much more than appreciating Hemingway's tale and lauding the actors' performances; it's also reveling in the empowerment the production gives you to charge your own imagination in the playing of the play. For the complete review, click here.
Press-sure Cooker
As I'm a journalist, this seems as good a time as any to review a show about journalists. After all, there "ain't much respect for the press around here." That's a line from The Front Page, the Ben Hecht and Charles MacArthur play that was revived this past winter on Broadway. This and other such media bashings receive knowing laughs from the Broadway audience grown accustomed to a just-inaugurated president's obsessive-compulsive derision of the media, even before he announced via tweet that journalists are "enemies of the people." For me, though, watching The Front Page with an all-star lineup had my own career flashing before my eyes, from the Walter Burns–like editors I've worked for to how stories are chosen for the front page. What also emerges is that while the script compares journalists to bootleggers and whores, the play actually reveals how members of the media really share the DNA of members of the military. To read the full review, click here.
Reader response added March 6, 2017.
A Shakespearean Reach
On our way home after seeing a play—after we've allowed the intensity of the experience (excited or painful) to run its initial emotional and intellectual course—I ask my wife, Sarah, "So what did you think?" When I popped the question after seeing a new staging of Mike Bartlett's King Charles III at Washington, D.C.'s Shakespeare Theatre Company (STC) produced in association with San Francisco's American Conservatory Theater and Seattle Repertory Theatre, Sarah went on to describe a different play from the one I saw—though we were sitting right next to each other in the theater, were both awake for the entire play, and both enjoyed it. Sarah, who could be labeled a "Royals watcher" from her infatuation with English monarchy past and present, saw a play about the members of the royal family projected into a future that begins with Queen Elizabeth's passing and Charles's ascending the throne. What I saw was a Shakespeare history play. To continue, click here.
Reader response added February 18, 2017.
A Man; Take Him for All in All
This is the great conundrum of Coriolanus. Is the title character a hero or a villain? What is fact in the play, and what is "alternative fact?" Shakespeare, if not being obtuse, is at least presenting both the character and Roman society and its fickle population and manipulative politicians with dispassionate objectivity. In our age, Coriolanus tends to be antiheroic: There's a reason this play is showing up on an inordinate number of theater marquees this year (along with Richard III, Julius Caesar, and Measure for Measure). But René Thornton Jr. playing the part for the American Shakespeare Center's production at the Blackfriars Playhouse is not an antihero. He is engaging, funny, inspiring, endearing even. Thornton's performance is refreshing and disconcerting because I actually like this guy though it's clear in both the things he says and the way he behaves that he will pursue an authoritative course of rule and widen the economic gap between the patricians and the plebeians. But so what? Those plebeians certainly come off as a bunch of wusses. For the complete review, click here.
Master of a Full Poor Cell
Women in prison. It served as a metaphor for Rome in Phyllida Lloyd's staging of William Shakespeare's Julius Caesar and continued as a thematically resonant setting for her version of Shakespeare's Henry IV. With The Tempest, however, metaphor has been turned inside out as the play serves to conclude what turns out to be the story of a single prisoner told through Shakespeare's canon. Taken as a whole, the series demonstrates Shakespeare's redemptive power while showcasing the incredible, multilayered acting talents of Harriet Walter along with those of her fellow actresses. Donmar Warehouse's production of The Tempest, which ran in London last fall and is now playing at St. Ann's Warehouse in Brooklyn, New York, is the last installment of Lloyd's "Shakespeare Trilogy" with Walter as Brutus, Henry IV, and, now, Prospero, though—unbeknownst to the audience—she has been Hanna all along. For the complete review, click here.
Phyllida Lloyd returns to the women's prison setting for the second installment of her Shakespeare trilogy, Henry IV (combining the two parts into one). She uses many of the same cast members, most notably Harriet Walter, who played Brutus in Caesar, playing the title character in Henry. However, much of what made Lloyd's Julius Caesar so intellectually, emotionally, and psychologically scintillating is missing in her Henry IV. The prison setting only serves this play in an allegorical context rather than in a social context as the Caesar production did so brilliantly. [Catch up with mustard, working through our backlog of reviews of the past year, revisitting these productions with benefit of hindsight and experience. For the complete review, click here]
In The World of Refugees
"As You Like It is a call to action," Director Gaye Talor Upchurch writes in her program notes for her Folger Theatre production of the play, an introductory sentence that seems to be prophetic given the coincidental timing of this production against the backdrop of real-life drama being staged down the street in Washington, D.C. However, Upchurch is thinking in general terms. Her goal is that we, the audience, will join in "this celebration of both the ridiculous and the sublime nature of love." A juxtaposition of sublime and ridiculous may be her starting point in staging this play, but what is sublime and what is ridiculous easily get twisted in translation. Thus we get an As You Like It which, by the intermission, is about to sink under heavy-handed theatricality and restrained acting but suddenly gets buoyed by individual performances and an audience-engaging spirit that send the play sailing to a happy ending, Hyman and all. For the complete review, click here.
The Perspectives of Just Deserts
This is a Merchant of Venice that illustrates how Shylock is both a victim and a product of racism. This is a Merchant of Venice that depicts Antonio as the epitome of Christianity—and I mean that as complimentary to him. This is an American Shakespeare Center (ASC) Actors' Renaissance Season production (actors with no directors or production team mounting a play with a week's rehearsal) of William Shakespeare's play that lacks cohesiveness as some portrayals end up wandering in the wilderness, but a couple of bit parts rise to the topmost elevations of great Blackfriars Playhouse moments. To continue, click here.
A Perfect Rom–Imperfect Com
Tears? Are my tear ducts really stinging as I watch William Shakespeare's Much Ado About Nothing? It's not from laughing so hard. It's not from cringing too much (though I did a lot of cringing before this moment). These tears are the romantic kind—OK, the chick-flick kind—the result of a perfect consummation of Shakespeare's script, from-the-heart acting, and fluid pacing under the direction of Abigail Isaac Fine. Fine teams sublimely with Shakespeare in such sterling moments in this NextStop Theatre Company's 1960s South Beach–set production; too often, however, she doesn't trust the Bard, and though she's given the tools for a truly superlative Much Ado About Nothing, the production stumbles as much as it soars. To continue this review, click here.
This Point in Time
[Catch up with mustard, working through our backlog of reviews of the past year, revisitting these productions with benefit of hindsight and experience.]
The Shakespeare Theatre of New Jersey's production of Richard III last fall (which we attended three days before Election Day) was not specifically political in nature—its setting was a modern upscale gangland culture—but it was hard to not hear and see a Trump at work in Richard, deliciously played by Derek Wilson. Nevertheless, the more fascinating character in this production was Sir William Catesby (Sheffield Chastain): fascinating in how and why the character is constructed the way he is and how he reflects in more people—and more dangerously—than does a Richard III. For the complete review, click here.
The Birth of a Man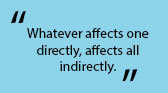 I was in the fourth grade. By virtue of math, I know I was 9 years old, almost a month from my 10th birthday. My life's timeline is a locale line because my dad was an Air Force chaplain and we moved every 2 1/2 years; thus, it's the place that dates this story: a small ranch house in the officer's housing area on Davis-Monthan Air Force Base in Tucson, Arizona. It must have been early evening, probably before dinner. In fact, I might have been wondering when we would be eating as I came out of my room and walked down the hallway to the living room to find my distraught parents watching the television. Mom was crying; Dad was pained. "What happened?" I asked. "Martin Luther King was shot," my mom said. I'm pretty sure, being that I was 9, my next question would have been: "Was he killed?" He was. Then came the key question: "Who is Martin Luther King?" The rest of my recollection of that night, as significant as the events would be for the rest of my life, is murky. To continue, click here.
One That Hath Always Loved the People
I could write my entire review of the Red Bull Theater's production of William Shakespeare's Coriolanus on Patrick Page playing Menenius as a Dixie politician. Not only was this the highlight of this intimate, bare-stage but overly busy production at the Barrow Street Theatre (though Page was not alone in giving a sterling performance), his portrayal drew out the many shades of this fascinating character who is the antithesis to the bull-in-a-china-shop Martius (played here by Dion Johnstone) and, thus, foil as a political archetype. Naturally, we can apply such political archetypes to today's all-too-real political stages across the globe. However, the gorgeous conundrum of Coriolanus is that though this Jacobean play about the early days of the Rome Republic can be easily updated to modern issues, it doesn't automatically mean we can apply Shakespeare's text as a barometer of right or wrong, good or evil, or even success or failure in government.For the complete review, click here.
The Truth in the Matter
Some William Shakespeare plays are born great, some achieve greatness, and some have greatness thrust upon them. The Two Gentlemen of Verona is in that last camp. Long the play I most maligned among Shakespeare's solo works, The Two Gentlemen of Verona has been moving steadily up the charts in my estimation, production by production. Now comes the American Shakespeare Center (ASC) Hungry Hearts Tour version, and even if Two Gents is not a Top 10 Shakespeare play, this production makes it seem so. It does so by being pure and simple under a director, Jemma Alix Levy, who recalls this play, the first Shakespeare she ever saw, through the eyes of a 7-year-old. For the complete review, click here.