Orestes
Riddle Me This:
8 Actors in 8 Parts With Doubling
By Euripides, translated by Anne Washburn
Folger Theatre, Washington, D.C,
Thursday, February 18, 2010
Directed by Aaron Posner
Holly Twyford as Electra opened this 90-minute production with a riveting monologue, and the play went uphill from there (she also played a Greek lord). Jay Sullivan as Orestes slept throughout the first third of the play, and even in that had stage presence. He also played a messenger. Chris Genebach soared in four roles: Menelaus, a Trojan Slave, Pylades, and Helen of Troy (more of a socialite beauty in her senior-leaning years).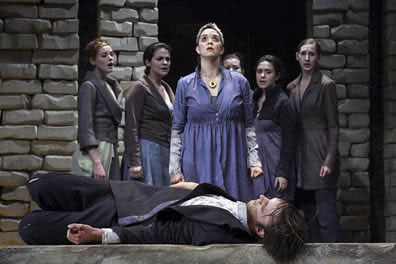 Holly Twyford as Electra and Jay Sullivan as Orestes with the Chorus in the background in the Folger Theatre production of
Orestes
. As remarkable as the lead actors were, the Chorus was a highlight of this play thanks to the actresses' perfectly synced performances. Photo by Carol Pratt, Folger Shakespeare Library.
While these three played eight memorable parts, the night belonged to the five women who played one part: Lauren Culpepper, Rebecca Hart, Marissa Molnar, Margo Seibert, and Rachel Zampelli as Chorus. Their arrival was pure slapstick, entering "quietly" by stomping down the theater's center aisle. They not only talked in unison but were perfectly synced in all nuances of expression, sounding like one person split into a five-track tape. They did this while facing each other in a group; they did this while positioned separately across the stage and in different postures. They also did a fun Greek rap and sang heavenly choral music (composed for the production by Giuseppe DeBartolo).
This production of Orestes was subtitled "A Tragic Romp," and that's exactly what it was. Epic Greek verse spoken eloquently but allowing all the irony and stabs of humor to zing through. The characters wore their emotions like billboards, and yet the actors subtly surfaced the individual personalities of even the smallest roles. The end was bloody (off stage, of course, this being a Greek play) and downright weird with Apollo making a voice-only appearance in the form of Lynn Redgrave.
Greek drama carries the reputation of staid theater, but as with Marlow and bad Shakespeare, good acting and directing to the shades of characters and action can make it a vibrant, entertaining good time. So much a good time—five-part good time, in fact—we'd love to see this one again.
Eric Minton
February 20, 2010
Comment: e-mail editorial@shakespeareances.com
Start a discussion in the Bardroom