Rosencrantz and Guildenstern Are Dead
It's What the Actors Do Best
By Tom Stoppard
Folger Theatre, Washington, D.C.
Sunday, May 17, 2015, F–5&7 (center left stalls)
Directed by Aaron Posner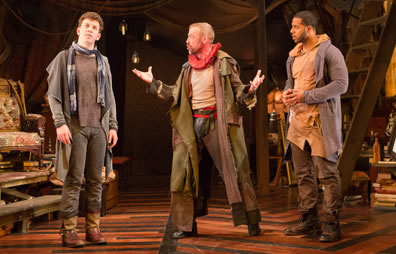 The Player (Ian Merrill Peakes, center) talks with Guildenstern (Adam Wesley Brown, left) and Rosencrantz (Romell Witherspoon) in the Folger Theatre production of Tom Stoppard's
Rosencrantz and Guildenstern Are Dead
. Below, Guildenstern and Rosencrantz report to Claudius (Craig Wallace) and Gertrude (Kimberly Schraf). Photos by Teresa Wood, Folger Theatre.
Tom Stoppard sets his Hamlet spinoff, Rosencrantz and Guildenstern Are Dead, "in a place without any visible character." But Scenic and Properties Designer Paige Hathaway's set for Aaron Posner's edition of the play at the Folger Theatre is a place of ultracharacter, resembling a large attic cluttered with a lifetime of mementos. We see chairs, a cart's wheel, a ship's wheel, 21 lampshades of which only one is still on its lamp, an old clock bound in twine, a phonograph, suitcases and trunks, garden tools, picture frames, model ships, a crescent moon hanging from the ceiling, a noose, and at least 11 human skulls plus that of a deer and either a horse or cow. Books are stacked everywhere, including some 50 different volumes of Hamlet, according to Folger Dramaturg Michele Osherow's program notes.
This inside joke the audience may not get from merely looking at the stage (the skulls are a more obvious joke), but we nevertheless know we are in for a playful evening. This is further confirmed when Ian Merrill Peakes playing The Player strides onto the stage wearing a ragged coat over a dirty t-shirt and gray jeans with a codpiece strapped to his waist with red ribbon. He spreads his arms ready to launch into some great dramatic speech, then thinks better of it and simply says, forcefully, "Turn off your cell phones." He pauses to ponder the most effective delivery of his next instruction and then shrugs: "Subscribe," he says, a one-word reference to the Folger announcing earlier in the week its 2015–2016 season. "And yes, I'm enough man for this codpiece," he says and swoops off the stage.
Stoppard's play, which debuted in 1966 to immediate acclaim and quickly achieved classic status in its own right, is a lot of things. It is first and foremost a linguistic playground, literally in that Rosencrantz and Guildenstern pass time playing a game of verbal volleying they call "questions." Through The Player and his traveling troupe of actors, the play also is a commentary on the art of theater. "We do on stage the things that are supposed to happen off," The Player says. "Which is a kind of integrity, if you look on every exit being an entrance somewhere else."
It also is a satirical but yet appreciative critical review of William Shakespeare's Hamlet. Even Rosencrantz's and Guildenstern's game of "questions" is played off the duo's first scene with the Prince in Hamlet. Guildenstern later sums up literature's most enigmatic character this way: "It really boils down to symptoms. Pregnant replies, mystic allusions, mistaken identities, arguing his father is his mother, that sort of thing; intimations of suicide, foregoing of exercise, loss of mirth, hints of claustrophobia not to say delusions of imprisonment; invocations of camels, chameleons, capons, whales, weasels, hawks, handsaws—riddles, quibbles, and evasions; amnesia, paranoia, myopia; day-dreaming, hallucinations; stabbing his elders, abusing his parents, insulting his lover, and appearing hatless in public—knock-kneed, droop-stockinged, and sighing like a love-sick schoolboy, which at his age is coming on a bit strong." "And talking to himself," Rosencrantz puts in. "And talking to himself," Guildenstern concurs.
Posner trims scenes from the play—nothing significant lost—to get it down to two hours' running time, plus intermission. However, being an appreciator of Shakespeare, too, he slips in a couple of his own sly digs at Hamlet, as well (the director who has no qualms making textual interpolations with Shakespeare's plays doesn't shy away from playing reviser to Stoppard, either).
Audiences and critics also see Rosencrantz and Guildenstern Are Dead as a dazzling discussion on existentialism. Though Stoppard in interviews has claimed he had no philosophical intent in the play's composition, audiences eagerly put forth their own philosophical readings. To me, the two lead characters in this play are merely characters in Shakespeare's play and nothing more. They have no existence before Hamlet begins (in Stoppard's portrayal they remember nothing of their lives except that they were summoned). They fill simple roles of plot mechanics with little in the way of individual character development (Stoppard makes much of the apparent confusion over their names in Hamlet, but he also distinguishes each personality). Shakespeare efficiently discards them when their purpose in the plot is done (though he gives them half-hearted eulogies from Horatio and the English ambassador). Notably, Rosencrantz and Guildenstern in Stoppard's play seem incapable of ever leaving the stage until the end, as if they have no existence beyond the theater. "In and out, on and off, they're coming at us from all sides," Rosencrantz says of their encounters with the other characters in Hamlet. "Why can't we go by them?" Pointedly, when Guildenstern near the play's end asks, "Who are we?" The Player replies, "You are Rosencrantz and Guildenstern. That's enough."
In this production, Rosencrantz (Romell Witherspoon) and Guildenstern (Adam Wesley Brown) and especially Peake's Player ignore the fourth wall. They not only frequently directly address the audience, in a couple of instances they also imitate individuals in the audience. As Rosencrantz and Guildenstern grow frustrated with the Elsinore court that has taken over their lives, they implicate the Folger audience in the conspiracy. "They're taking us for granted!" Rosencrantz cries in a sudden outburst, and it's us he seems to mean.
My theory, however, goes only half way to the point of Posner's vision of the play. Rosencrantz and Guildenstern may be merely characters in a play that's not about them, but is that any different from our own lives? "What is expected of us?" Posner asks rhetorically in his program notes. "Who is in charge? How do we know what we should really be doing at any given moment? How the hell did we get here from there? And what the hell is the point of it all if we're all just going to die anyway? I think nearly all of us feel at least a little lost sometimes—and quite often we are subject to the accompanying deep-seated anxiety that goes hand-in-hand with a sense of dislocation—of being somehow, oddly, set adrift in the world" (emphasis in original).
Never mind the set, it's Helen Q. Huang's costumes that are most instructive in this production. Hamlet and his court are dressed in fairy tale regality. The players are dressed in motley with red ruff collars ("Aren't you going to change into your costume?" Guildenstern asks before the players start a performance. "I never change out of it, sir," The Player replies, being always in character). Rosencrantz, meanwhile, is in buckram hoodie and a long sweater, and Guildenstern is in a Victorian-style long jacket, ubiquitous t-shirt, and plaid scarf, and both wear work pants and boots, outfits that have traces of historical eras but modern casualness: they are anytime anymen.
Posner, noting that Stoppard was in his 20s when he wrote the play, also cast young actors for his leads, both making their Folger debuts. Brown's Guildenstern wears his seriousness on his sleeve, a deeply contemplative young man whose meditations nevertheless come off as comically naïve. Witherspoon's Rosencrantz is a genially simple guy, asking little of life and of himself, his truly deep thoughts and understanding bursting forth to his surprise as much as to Guildenstern's.
These two actors are great finds, but the show belongs to Peakes, whose performances on this stage of Macbeth, Iago, Angelo, and Henry VIII still resonate in the minds of subscribers of the past seven years. With The Player, Stoppard has written a role that any actor can chomp into, in which hamming and bluster are part and parcel of the character's richly dramatic arc, and Peakes' appetite for the role is obvious. As The Player, Peakes is always in performance mode, moving with poetic confidence, delivering every line with ego-eyed consciousness, ever seeking an audience reaction and generally achieving one. "Aren't you going to—come on?" Guildenstern asks when The Player is about to perform. "I am on," The Player replies, Peakes indicating that it should be obvious. His pronouncements on theater, on death, on acting, on life as acting and death as theater are simple truths, but Peakes' Player renders them as earth-shaking profundity. His diatribe against Rosencrantz and Guildenstern for departing in the middle of their play, depriving them of the actors' only reason for existence—an audience—is a tour de force display of all-in acting. The Player is awesome, he knows it, and we see it in Peakes' performance.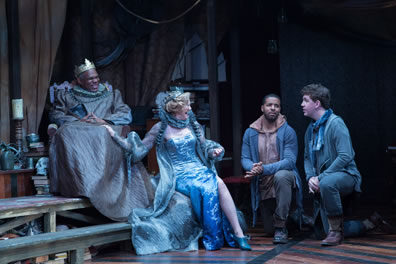 The production is also a triumph for Posner. His skill at forging tight ensembles is in full effect here, and he is adept at creating hilarious yet perfectly suitable stage business in scenes that might otherwise drag. The director who cleverly used masks in Two Gentlemen of Verona, puppets in Measure for Measure, and gun-slinging women in an Old West Taming of the Shrew on this stage this time turns the dress rehearsal of The Murder of Gonzago—Hamlet's Mousetrap—into a nonstop tickle fest for the audience.
The first time I saw Rosencrantz and Guildenstern Are Dead in 2009, I called it "literary masturbation." I admitted I didn't understand it, and in my hoity-toity way I considered that bad theater. I've seen it three times since, and the more I understand it, the less I comprehend it; but I've come to appreciate that as its greatest feat, now accepting that it deserves the label of "modern classic." Whether you get Stoppard's play or not doesn't matter; its literary calisthenics and The Player's theatrical logic are worth the ride. Posner's production of it and Peakes' Player turn it into a thrill ride.
Eric Minton
May 19, 2015
Comment: e-mail editorial@shakespeareances.com
Start a discussion in the Bardroom