The Importance of Being Earnest
The Importance of No Fourth,
Third, or Second Wall
By Oscar Wilde
American Shakespeare Center, Blackfriars Theatre, Staunton, Va.
Sunday, August 14, 2011, D–7&8 (middle stalls)
Directed by Jim Warren
In my essay on the Roundabout Theatre's production of The Importance of Being Earnest we saw in New York earlier this year, I expounded on the importance of being earnest when playing this play. This ASC production had that earnestness throughout the entire cast, but it also had one thing that no other production I've seen was equal to: the Blackfriars Theatre. With an audience on three sides and even sitting on the stage itself, the players engaged in a threefold dynamic: player to Wilde, player to player, and player to audience.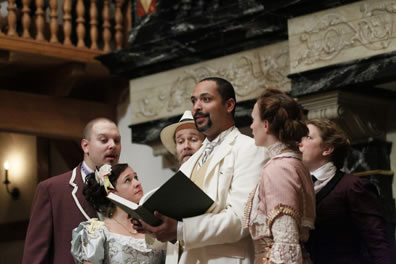 Benjamin Curns (Algernon), Miriam Donald (Cecily), John Basiulis (Rev. Chasuble), René Thornton Jr. (Jack Worthing), Blythe Coons (Gwendolen), and Allison Glenzer (Miss Prism) (photo by Tommy Thompson/American Shakespeare Center).
The ASC veterans, in particular, were crackling whips in their repartees and timing. When Benjamin Curns' Algernon threw out the information that thanks to his imaginary friend, Bunbury, he and Jack Worthing would be able to dine at the Savoy that night, René Thornton Jr.'s Jack paused a moment trying to piece together all of these confusing threads and replied, "I haven't asked you to dine with me anywhere tonight." "I know," Algernon quickly returned, patting his counterpoint on the chest: "You are absurdly careless about sending out invitations. It is very foolish of you." Curns paused for the laugh, then finished with "Nothing annoys people so much as not receiving invitations" for yet another laugh. Furthermore, only actors with complete trust in each other could get their characters into a vehement argument over muffins and have the audience accepting every word as truth.
Miriam Donald, also an ASC veteran, played Cecily and likewise crackled with Curns' Algernon in their absurdly logical courtship scene. Though he had just met her, never did Curns treat the news that he had long been engaged to Cecily, as reported in her diary, as anything but fact. Then there was the altercation between Cicely and Gwendolen, played by ASC newcomer Blythe Coons, a delicious sparring of vicious barbs via impeccably mannered speech. Later they proved to be indomitable "sisters" as they teamed up against Algernon and Jack.
Coons' Gwendolen was quite the spirited daughter to the indomitable Lady Bracknell. She didn't heed her mother's commands so quickly, and she delighted in watching Worthing cross-check the matriarch on the matter of Algernon's marriage to Cecily vis-à-vis his own desire to marry Gwendolen. Coons also launched a standing joke later picked up by Donald's Cecily of pronouncing the name "Earnest" with orgasmic pleasure. For Gwendolen, as she explained to Worthing, the name Earnest "produces vibrations," and she did, indeed, vibrate as she said it.
Of course, the great comic force of this play is Lady Bracknell, and James Keegan lent the role great gravitas. He maintained her stiffness and proper bearing the whole while he was delivering so many laugh-inducing remarks, and he never let slip any hint that cross-dressing was a fact of the part. Well, that's not entirely true: during one intermission, the cast performed the B-52's hit "Love Shack," with Keegan sing-speaking the Fred Schneider part in his normal, baritone voice.
While the players engaged in fluid repartee with each other, they also engaged with the audience, especially Curns' Algernon who addressed many of his witticisms directly to the audience. After Jack, as advised by Algernon, made "severe chill" the cause of his nonexistent brother's death, Algernon decided to allow his own mythical friend, Bunbury, to die. As he was about to reveal the cause of Bunbury's death, a couple of people in the audience couldn't help letting slip "severe chill." Curns cocked his head in their direction and held up a finger. "No," he calmly said, "he quite exploded."
That he seemed to be pulling one over on the audience as well as Lady Bracknell made the line all the funnier.
Eric Minton
August 16, 2011
Sunday, October 9, 2011, D–7&8 (middle stalls)
We returned to this production because John Harrell had taken over the part of Lady Bracknell from James Keegan, a planned switch from before the run as a concession to other obligations in the two actors' schedules. I thought I should address any new features to the role emerging from this change, but much more than that is worthy of being addressed here.
As for the new Lady Bracknell, while Keegan played her as rigidly haughty, Harrell presented her in much more disdaining tones. He added a fun piece of stage business when he gave his Lady Bracknell a walking staff and used the end of the staff to push Cicely's chin up when she presented her profile. For the remainder of the scene, anytime Miriam Donald's Cicely dropped her chin, Harrell's Lady Bracknell pushed it back up into proper place with his staff. Another shift in the portrayal came not in the play itself but in the cast's singing the B-52's "Love Shack." Whereas Keegan channeled the original band's lead singer, Harrell stayed in character as Lady Bracknell, demanding in much put-upon agitation that his fellow singers "knock a little louder."
Harrell also played Lady Bracknell with more obvious awareness of the jokes she's saying. But that was the case with the whole cast, a shift from the "earnestness" I had remarked on previously. There was much more mugging to the audience and obvious reactions to Wilde's witticisms in this performance. Although I contend earnestness makes for better humor, I can't deny I heard as much laughter in this matinee performance as I did the first time.
The cast engaged the audience more this time, too (not necessarily a development of the production's run as it may be the difference from one audience to the next). Benjamin Curns directed Algernon's comment "girls never marry the men they flirt with. Girls don't think it right," at a pre-teen girl sitting on one of the gallant stools on-stage, and her giggling response put the whole audience in stitches. Lady Bracknell pointed out a woman in the audience as Lady Lancing who became so much younger in appearance her own husband didn't recognize her after three months. "And after six months nobody knew her,"René Thornton Jr.'s Jack Worthing said, boring in on the woman.
One piece of stage business I reported on originally was totally missing in this performance: the interchange on dining at the Savoy between Curns' Algernon and Thornton's Worthing. For the previous performance I reported that they were near each other, and Curns patted Thornton's chest. But in this presentation, Algernon was standing on one side of the stage, and Worthing was sitting on the sofa. I'm not sure that the blocking changed in the intervening performances; rather, I suspect my memory was not quite right in my first report. Consider this a correction or, maybe more accurately, a clarification. Or, perhaps, we can consider this a launching point on the matter of memories as myths (i.e., see Harold Pinter's Old Times).
Eric Minton
October 12, 2011
Comment: e-mail editorial@shakespeareances.com
Start a discussion in the Bardroom