The Blind Beggar of Alexandria
Sexual Pealing
By George Chapman
American Shakespeare Center, Blackfriars Playhouse, Staunton, Va.
Saturday, March 21, 2009
Actors' Renaissance Season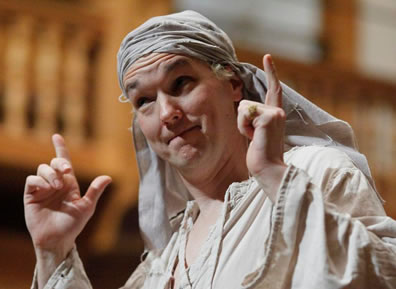 John Harrell as the blind beggar of Alexandria. Photo by Tommy Thompson, American Shakespeare Center.
As part of the ASC's Actors' Renaissance Season, wherein the players use only prompt copy, have mere days to mount the play, and do so without a director, this rarely performed bit of Elizabethan farce was a sexual riot from beginning to end. John Harrell as the central character in many guises gave a tour de force performance, but this was truly an ensemble piece with every actor going over-the-top.
There were the three sisters (Allison Glenzer, Alyssa Wilmoth, and Miriam Donald) reveling in sexual discovery; the four kings (Rene Thornton Jr., Chris Johnston, Benjamin Curns, and Thomas Keegan) juxtaposing various types of speech effects and poses (with special kudos to Johnston for navigating his crown's entanglement with his Carrot Top wig); and there was Gregory Jon Phelps as both Bragadino and Doricles, whose death scene as the latter (run through with a spear, he stumbled about the stage getting stuck on the set and dying with a habitual flick of his long hair) had the whole house in stitches.
This performance played up the blatant sexual punning of the script, from Leon's money bag shaped as a penis and scrotum (and suitably hanging at his crotch) to Hermes' and Samathis' riffing on "coming" with a pistol. The only downside was the gale-force decibles of laughter from the man sitting behind us, so loud, so piercing (and probably some over-acting of his own), I lost the hearing in my right ear during Doricles' death.
Eric Minton
March 23, 2009
Comment: e-mail editorial@shakespeareances.com
Start a discussion in the Bardroom