Billy Elliot the Musical
Electricity: It Will Light You Up,
and It Can Hurt You, Too
Book and lyrics by Lee Hall, music by Elton John
Universal Pictures Stage Productions/Working Title Films/Old Vic Productions, Opera House, John F. Kennedy Memorial Center for the Performing Arts, Washington, D.C.
Tuesday, January 3, 2012, S–125&126 (middle orchestra)
Directed by Stephen Daldry, Choreography by Peter Darling
Billy Elliot is feel-good theater, even though the play itself is not necessarily a happy one. It's a success story—and yet it is not. Right at the moment Billy gets his ticket to success, his community gets word of its impending doom. For aside from being the story of Billy Elliot, Billy Elliot is equally the story of the striking coal miners of northern England, a historical setting that is much more than an undertone of the titular character's journey: it's almost an overtone.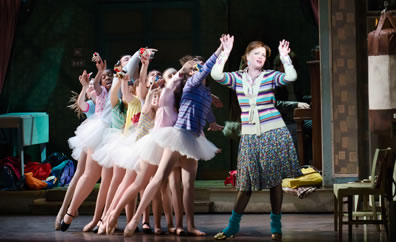 Leah Hocking, right, as Mrs. Wilkinson leads the young girls in her ballet school through a lesson in the production of
Billy Elliot The Musical
at The Kennedy Center. The dancers playing the girls proved to be awfully talented in order to portray perfectly awful dancers. Photo by Kyle Froman, John F. Kennedy Memorial Center for the Performing Arts.
Not so much a story about success and failure, then, Billy Elliot is about passing on from one phase to another. The coal miners lose, their way of life is about to pass; that seems to be failure, but we are left wondering what new way of life will fill that vacuum for these men and women of such stout nature and perseverance. As for Billy, whereas the movie (upon which the play is based) ended with his father visiting a grown-up Billy successfully dancing for the Royal Ballet, the play ends with Billy saying goodbye to his best friend and walking up the theater's aisle, suitcase in hand and trepidation on face. He's frightened, sad, alone, and we wanted to hug the poor kid as he walked past us. It is not a triumphant ending.
But, oh, what a triumphant show. And that triumph starts with Billy. Five young actors are cast in the lead role of this touring production, and we saw 13-year-old Ty Forhan. Solid acting with a pro's sense of timing and a suitable voice, Forhan displayed prodigious dancing talent, whether it was boogie, tap, or ballet. The visceral thrill of Billy Elliot is to watch this gawky boy—all elbows and skinny legs and stumbling about as he tries to learn basic steps—evolve into a talent that, in and of itself, could earn him a spot as a principal in most ballet companies. I say that with all confidence because in his pas de deux with Older Billy, Forhan matched moves—some of them difficult—with veteran ballet dancer Maximilien A. Baud. That dance, with Billy literally flying over the stage, was the play's most inspiring moment.
However, the play's most stirring moment was the miners singing "Once We Were Kings" as they submerged back into the mines once their strike ended. They moved to the back of the stage as an army of singing silhouettes, their helmet lamps shining out toward the audience, and as the wall closed on them, their voices faded and Billy was left alone.
Yet, as much as the Billy pas de deux inspired and the miners' anthem stirred, this musical's most electrical moment was "Electricity." At his audition for the Royal Ballet School, Billy must explain what drew him to ballet. He starts with "I dunno." Then, "the dancing, I guess." But as he starts describing the feelings he gets when he dances, he moves into the song about indescribable feelings, like flying and being a spark of electricity. Forhan's voice was at its strongest here, and he concluded with his solo dance watched by his astonished but proud father (Rich Hebert). We, equally astonished and just as proud, gave an ovation seemingly as long as the inordinately long (and yet too short) dance.
The magic behind this magic is the music of Elton John. Most people regard John's best work as his "early stuff"—um, would that be 1970s Madman across the Water or 1980s Too Low for Zero or 1990s Lion King? The fact is, John has given us four decades of writing perfect tunes to great lyrics supplied by Bernie Taupin, Tim Rice, or, with Billy Elliot, Lee Hall. I have every original recording John has issued, almost 45 hours of music, and except for a couple of minor dips in the later 1970s, he's been consistently good as a songwriter from his first album, Empty Sky, through to his latest release, Shiloh, in 2010. By thematic necessity, John tapped into England's music hall and pub singing heritage for much of his Billy Elliot material—all perfectly serviceable to this show—but "Electricity" and "Dear Billy (The Letter)" is pure Elton John, ranking with the best of anything he's written for matching a melodic mood to lyrical meaning.
Along with good music, good performances portraying interesting characters are a key formula in good musical theater, and this production of Billy Elliot provided such a cast around Forhan. Leah Hocking was a hard-scrabble Mrs. Wilkinson, Billy's ballet teacher, and aside from displaying her singing chops and her own dancing skills (of the boogie type), Hocking superbly acted that tightrope of keeping the character's ultra-tough exterior uncracked even though we could glimpse her heart—and a mother's yearning—underneath. Hebert acted the opposite effect: a soft-hearted widowed father struggling to be the tough guy, a patriarch to his family and the striking miners. Hebert played Jack Elliot's inner conflicts convincingly, but also brought a comic's touch to the audition scenes. Cynthia Darlow's toxic, senile Grandma unleashed a talented, brash but charming dancer for the number "We'd Go Dancing," and Ben Cook was Forhan's equal as Billy's best friend, Michael, in the cross-dressing tap dance number "Expressing Yourself."
Then there were the girls in Mrs. Wilkinson's class: Madison Barnes, Regan Mason Haley, Morgan Martin, Annelise Ritacca, Brionna Trilling, Genai Veal, Olivia Wang, and Danielle Victoria Znutas along with Samantha Blaire Cutler as Debbie. They were perfectly awful. I remember my mom once saying that it takes real talent to pretend to be bad. Fortunately for these girls—and us—after Billy's slow stroll out of the theater at the end of the play, the whole cast returned to the stage for a curtain call song-and-dance revue finale, all wearing tutus (kind of cute seeing Hebert with a tutu over his miner's coveralls). In that review, which combined tap with ballet, we saw the young girls' real talent. They were, indeed, awfully good to be so good at awful.
Eric Minton
January 6, 2012
Comment: e-mail editorial@shakespeareances.com
Start a discussion in the Bardroom