She Stoops to Conquer
Cast Conquers with Confusion
By Oliver Goldsmith
American Shakespeare Center, Blackfriars Playhouse, Staunton, Va.
Saturday, September 28, 2013, B–6&7 (center stalls)
Directed by Jim Warren
At the same time this company was mounting William Shakespeare's cerebral tragical-historical-comical-romantical Troilus and Cressida, it was adding Oliver Goldsmith's simple tomfoolerical She Stoops to Conquer to its five-play repertoire. Watching the latter a day after seeing the former is like switching from an intense game of chess among a cast of grand masters to roller derby. Who would argue which is more rewarding?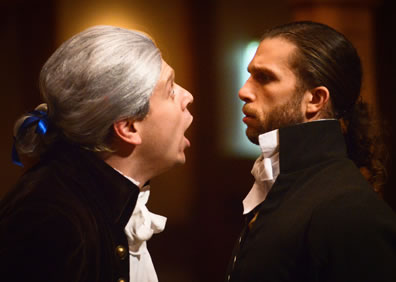 Hardcastle (Benjamin Curns) accuses Young Marlow (Gregory Jon Phelps) of overacting in
She Stoops to Conquer
at the Blackfriars Playhouse. Photo by Pat Jarrett, American Shakespeare Center.
Well, if you would argue that watching roller derby is more rewarding than chess or you acknowledge that you appreciate both experiences equally, then the production of She Stoops to Conquer is a coup de theatre to the American Shakespeare Center's outstanding 25th anniversary summer/fall season.
It is a coup because those grand masters who had scored a decisive victory in that chess match of a Troilus and Cressida will knock you over with equal skill and energy in this romping Goldsmith comedy. She Stoops To Conquer, written in 1773, may not have the depth and elegance of writing that Troilus and Cressida has, but it is a clever conceit in and of itself and the closest thing to Shakespeare that Georgian-era theater produced.
Goldsmith came up with a simple, somewhat farfetched but character-driven double plot device to create layers of comic gold. The characters of the country are Mr. Hardcastle (Benjamin Curns) with his old-fashioned tastes and reminiscing; his daughter Kate (Lee Fitzpatrick), whom is allowed to wear elegant clothes when engaging with society but must wear simple clothing around the house; and his second wife Mrs. Hardcastle (Allison Glenzer), who wants her son, the jokester slacker Tony Lumpkin (John Harrell) to marry her niece Constance Neville (Emily Brown), though they can't stand each other. Mrs. Hardcastle happens to control both Tony's inheritance until he comes of age and Constance's fortune in jewels until her marriage.
The characters from London are Hardcastle's old friend, Sir Charles Marlow (René Thornton Jr.), his son Young Charles Marlow (Gregory Jon Phelps), and Young Marlow's best friend George Hastings (Dylan Paul) who happens to be carrying on a secret affair with Constance. Hardcastle and Marlow have arranged a potential marriage match between their children, and young Marlow with Hastings is paying a visit to Hardcastle's estate to meet his prospective wife. However, young Marlow is stumblingly shy when he's around "women of virtue" (i.e., upper-class ladies), but he's a smooth romantic player in the company of "females of another class" (i.e., tavern wenches).
The characters' characteristics firmly established, town and country first meet at the Three Pigeon's tavern (after Harrell leads us in a rousing song about drinking alone, replacing Goldsmith's original obtusely joking stanzas). Lumpkin foregoes introducing his real self to young Marlow and Hastings and sends them on to his stepfather's estate by telling them it's an inn with a deluded innkeeper. So dour is the mansion's decor, Marlow and Hastings know no better when they arrive, and so gregarious is Hardcastle with stories of noble yore that they easily accept him as a deluded innkeeper. Hardcastle, though, has been expecting these guests, and their impudence confounds him.
This setup is funny enough, but rather than writing a one-joke play with a grand reveal at the end, Goldsmith uses a series of reveals while weaving in the two plots. When Hastings happens upon Constance at the supposed inn, he learns the truth; but seeing their chance to elope, they keep Marlow in the dark. Ergo, it is Hastings who introduces Constance's friend, the finely dressed Kate Hardcastle, to Marlow, who is so bumbling and ever-bowing that he never looks in Kate's face. Ergo, when she shows up later in her household clothes, Marlow takes her for the inn's barmaid and puts the move on her. She plays along, knowing this is the only way Marlow will truly court her. Ergo, when Sir Charles shows up and young Marlow discovers his mistake—that the deluded innkeeper is his father's old friend—there is still confusion because Marlow doesn't yet realize he has been hitting on Kate, while she assures the fathers he has. Ergo, there is yet one more reveal to come. Meanwhile, Hastings, Constance, and Tony conspire to steal the jewels from Mrs. Hardcastle and carry out the elopement (so much does Tony want to be rid of Constance), but they are thwarted by the fact they never reveal to young Marlow that he is not really at an inn.
Under Jim Warren's full-throttle direction and in richly detailed 18th century costumes by designer Jenny McNee, the actors turn in their keenest performances when their characters are most confused and confounded. Paul's cocksure Hastings goes into fits of disbelief every time his well-laid plans are detoured. Brown as Constance adroitly shifts from oozing devotion to Mrs. Hardcastle and openly flirting with Lumpkin (flirting that is, actually, the two trying to physically hurt each other) to frustration with her real lover and outright hostility with her supposed lover. Thornton turns confusion into indignity when he believes his old friend is slandering his son (Hardcastle has seen young Marlow hitting on the common-dressed daughter, though he doesn't realize that her dress is common nor that Young Marlow is afflicted with shyness around women who appear virtuous). Glenzer brings her total repertoire of physical comic skills to the part of Mrs. Hardcastle, and just her appearance after being dragged through the mire in a prank wrought by her son incites applause.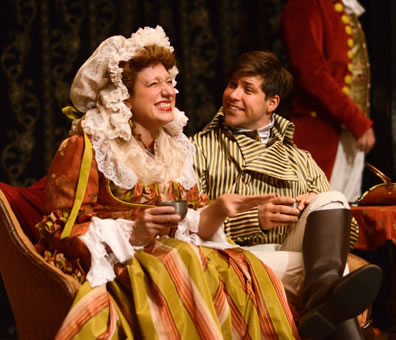 Hastings (Dylan Paul) plays up to Mrs. Hardcastle (Allison Glenzer) as part of a plan to beguile her so he can elope with her neice. Photo by Pat Jarrett, American Shakespeare Center.
The keenest of all are the two gulls at the center of the play, Curns's Hardcastle and Phelps's Marlow. Marlow's interview with the well-dressed Kate is painfully hilarious as Phelps awkwardly bows every time he starts to speak and stammers his way through run-on sentence fragments and non sequitur phrases. He so thoroughly gains our sympathy, we forgive his arrogance toward the man he believes to be the innkeeper and his later smooth-talking come-on toward the woman he believes to be the barmaid, though he soon shifts to true love for the bewitching woman. Watching Phelps's Marlow learn of his errors—especially when he discovers the barmaid who has besotted him is really the upper class lady he's supposed to marry—is precious. Curns gets his comic set-piece moment as Hardcastle trains his servants in how to properly behave when high society comes visiting, which doesn't happen often at this country estate. You have to watch it five times to catch all the comic gestures and expressions emanating from the four servants and their master, and the lessons Hardcastle imparts on them becomes a running joke.
When Phelps as the inn customer/impudent guest interacts with Curns as the landed gentleman/deluded innkeeper, the two characters bandy bewilderment as if confusion were a shuttlecock. Both actors bring their A game, giving sparkling energy to these scenes and adding to their illustrious Blackfriars Playhouse careers: Curns in seasons' past gave us memorable Iagos, Benedicks, Caesars, and an A-plus Richard, and Phelps this season reached new heights with Troilus, Lavatch, Cookie, and an A-plus Mercutio. Ironically, at the comic climax of their confused intolerance of each other, Curns's Hardcastle gets right in the face of Phelps's Marlow and accuses him of overacting.
Well, they are overacting, all of them—just a little. But this crew knows the fine line where exaggeration crosses into extravagance, and everybody toes that line delicately. What we get is exquisite mayhem and barely bridled brilliance, leaving us intellectually stimulated and our sides hurting more than a little.
Special Note
At the Blackfriars, the cast performs songs before the show and during the intermission. Make your intermission break a quick one, get back to your seat and hope your neighbors don't talk too much or too loud as the cast launches into Queen's "Bohemian Rhapsody." I'm not sure how the song fits in thematically with She Stoops to Conquer, but it certainly matches the spirit of the production: silliness on an operatic scale.
Eric Minton
October 4, 2013
Comment: e-mail editorial@shakespeareances.com
Start a discussion in the Bardroom