No Spring Chicken
Life Begins at 40
By Ginna Hoben
NextStop Theatre Company, Herndon, Virginia
Monday, September 28, 2015, second row, center of studio theater
Directed by Sullivan Canaday White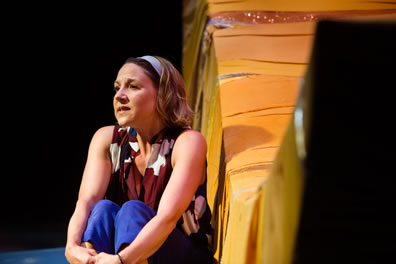 Jenn (Ginna Hoben) contemplates whether her fertility treatments will result in a pregnancy in the one-woman show
No Spring Chicken
making its world premiere at NextStop Theatre. Below, Jenn consults the Internet. Photos by Traci J. Brooks Studios, NextStop Theatre Company.
Full disclosure: My wife Sarah and I are friends of Ginna Hoben, the playwright and actress whose latest one-woman show, No Spring Chicken about "advanced maternal age" pregnancy, is making its world debut at NextStop Theatre in Herndon, Virginia, as part of the D.C. Metro area's month-long Women's Voices Theater Festival. In fact, her play contains an oblique reference to us (we were among Hoben's friends who, unaware she was going through fertility treatments, wondered why she inexplicably had put aside her passion for wine).
Another full disclosure: I'm a man. What do I know about pregnancy, right? Well, aside from being there at the beginning of two pregnancies, I was also there at the end, the first a Caesarian section, the second—amazingly given the predecessor C-section—natural birth. I know enough about pregnancy and childbirth to make this unequivocal statement: that men could never do it. We have neither the pain tolerance, nor the courage—real courage—to go through that. I'm ever thankful I'm not a seahorse.
Nevertheless, Hoben's play speaks directly to me because it goes much deeper than recounting a pregnancy. Being a one-woman play, No Spring Chicken could have passed as a comedy routine. It grew out of Hoben's blogging of her own advanced-age pregnancy (bambino & the bean) and the responses she received from other mothers. Her character, Jenn, is a representation of Hoben and the other mothers.
But this is real drama. It has protagonists and antagonists, allegorical arcs and thematic streams, humor and tension, and a twist ending, one that doesn't come out of nowhere but rather comes from everywhere—or, more accurately, from inside yourself. For females, males, Hobens, and Mintons, No Spring Chicken is a tale of life at its very existential core—but you won't get that until the very end.
Which is why the beginning comes off as slightly uneven. As we settle into our seats looking at a set that comprises a large, yellow crescent moon (Jane Hosticka Fink is the set designer), we hear a soundtrack of songs with an ultranatural tie: The Beatles' "Across the Universe," Van Morrison's "Moondance," Israel Kamakawiwo'ole's version of "Over the Rainbow," and Frank Sinatra's version of "Fly Me to the Moon," plus the Supremes' "Baby Love"—of course. The play begins with Hoben in voiceover ethereally describing her dream of seeing her daughter. But then, a perky Jenn walks on stage wearing cropped blue pants, a sleeveless white, rust, and blue tunic, and comfortable, black Mary Jane shoes (Kristina Martin is the costume designer). Jenn is carrying a backpack that contains a fold-out chair, which becomes her seat in the fertility clinic's waiting room. Hungry and wanting to chow down on the hard-boiled egg in her pack, Jenn dutifully obeys the signs about no eating while growing increasingly agitated that the many too-young-to-be mothers in the waiting room are ignoring the rules. She fills out forms, answers the same questions she answered on the form to two successive nurses, and loses a toe to frostbite.
It's a mixture of astute observation and silly exaggeration. However, this opening segment establishes several themes that will wend their way through the rest of the one-hour play:
The cliff that women come to when they reach age 40 and suddenly are labeled "advanced maternal age" (which, Jenn points out, is better than the previous standard of "geriatric maternity age" that began at 35), making them categorically older than other mothers;
The health-care bureaucracy, with questions repeated countless times and myriad forms that all get lost in "the system" (something that has dogged my wife's health-care adventures this year, including cancer treatment being postponed because the military's Tricare insurance system lost her referral—three times);
The cold hearts of many health-care administrators and even some providers, not a universal problem, perhaps, but when you encounter doctors or nurses who don't give a flip about your well-being, let alone your personal wishes, because it disrupts their routines, it's universal to you; and,
The all-important egg, manifested visually in the play not only with Jenn's hard-boiled jumbo egg but also with an egg timer, and verbally when Jenn foregoes egg drop soup from her favorite Chinese take-out place.
No Spring Chicken moves from the anxieties of fertility treatment through the pains (physical and emotional) of pregnancy to Jenn's determination for a natural birth—"spontaneous, nonmedicated, and vaginal"—despite accusations of being "P-R-E-G-L-I-G-E-N-T" and facing a real risk of "fetal demise," a euphemism for stillborn which is, in itself, a euphemism. The play also revels in the humor that all this anxiety, suffering, and arrogance inspires. Hoben's script doesn't shy away from frank descriptors involved in fertility treatments, pregnancy, and childbirth, either. The word vagina gets a workout, even when substituted with various synonyms. Hoben scores an applause line when Jenn commiserates with husband Fletcher, who is worried about his upcoming participation in a fertility procedure during which she will undergo painful, invasive infixation (which she describes with anatomical detail) while he jerks off in a jar. To be fair, Fletcher is as eager as Jenn to have the baby and thus is proactively supportive. He also proves to be a key player in the delivery room by taking earnest ownership of his title as birth coach.
Hoben's scriptwriting credits include another one-woman show, 12 Dates of Christmas, which premiered in 2010 at the American Shakespeare Center's Blackfriars Playhouse in Staunton, Virginia, and played at NextStop in 2013 (though featuring a different actress); pierced! at the New York and Edinburgh Fringe Festivals; and the windchill factor, and telephone at the Actors Theatre of Louisville, Kentucky. She also was a scriptwriter for Brain Games on the National Geographic Channel. She's a talented writer; but in her rendering of No Spring Chicken, it is her acting that lifts the show to its theatrical heights.
A classically trained actress, Hoben has played roles at the American Shakespeare Center ranging from Romeo and Juliet's Nurse and Helena in All's Well That Ends Well to the title character of Fair Maid of the West and both William Shakespeare's and Tom Stoppard's incarnations of Guildenstern. Unlike 12 Dates of Christmas in which she took on several characters, with No Spring Chicken Hoben is just Jenn; but Jenn is a journey. She's the giddy optimist who thinks that merely shaking the famous fertility doctor's hand will get her pregnant. She's the so-happy-to-be-pregnant-at-last sufferer of intense morning (and afternoon, and evening) sickness. She's the natural birth warrior taking on a bureaucratic-bound health-care system, a too-stubborn nurse during labor, and her own 40-year-old body. "I'm mad at my age," Jenn proclaims in a fit of frustration.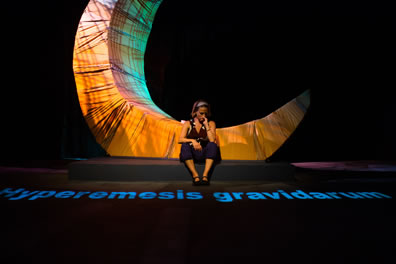 Hoben displays great comic timing and uses direct-address techniques with the audience, ad-libbing off reactions, but she also lets us inside Jenn's world. Through Hoben's performance, we feel—not merely see or hear tell about—everything Jenn goes through physically, emotionally, psychologically and, most pointedly, intellectually. "Hope is a powerful thing: how else do you hold onto a dream for two decades?" she says. But at the time she says this, Jenn's postfertility-treatment pregnancy tests are coming up negative. If she doesn't have a baby, she wonders, "How can I believe in anything again?"
Though it's a one-woman play, the production is really a two-woman endeavor, as Hoben enlisted to direct No Spring Chicken Sullivan Canaday White, co-founder and artistic director of Project SEE Theatre in Lexington and acting teacher at Kentucky and Transylvania universities. White further distances Hoben's script from standup comedy routine by merging set, lighting (Annmarie Castrigno), and sound (Nicholas Upchurch) for dramatic effect as Hoben ranges around the stage and sits, kneels, and lounges on the moon.
And, though it's a one-woman show, another character is very much present on the stage: the Internet. Represented in words projected onto the floor and a self-assured male voice-over, the Internet becomes Jenn's key counselor and advisor, replacing her miracle doctor in that role but later supplemented by Jenn's caring but pragmatic midwife. Late in the play the Internet becomes mere background noise, babbling on incessantly though Jenn has begun ignoring it and all other advice. She's turning inward for her counsel. It's just her and Fletcher; then, it's just her. And then…
Eric Minton
October 9, 2015
Comment: e-mail editorial@shakespeareances.com
Start a discussion in the Bardroom