Palm Beach Shakespeare Festival
In Memoriam: Kevin Crawford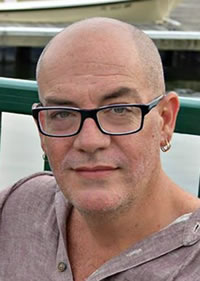 He called his stage work "technically only a hobby." Rather, he saw himself as an academic, specializing in Shakespeare and Renaissance theater. But for his fellow actors and two-plus generations of Palm Beach, Fla., audiences, Kevin Crawford "saw life through the eyes of a poet, and made life more beautiful for the rest of us because of it."
Crawford, co-founder of the Palm Beach Shakespeare Festival and artistic director of the company, died Monday in a hospital near his home in Waleska, Ga., reported the Palm Beach Post. Cause of death has not been publicly disclosed, but his passing was sudden and unexpected, leaving Festival members in shock. Crawford was 43.
Crawford met Kermit Christman at Florida Atlantic University, where Crawford earned a bachelor's and master's in English and Renaissance drama. The two founded the Palm Beach Shakespeare Festival in 1990, and Crawford has participated in the Festival's annual productions every year through 2013, when he directed Coriolanus and played the title character. The production at Carlin Park's Seabreeze Amphitheater in Jupiter, Fla., was reviewed in Shakespeareances.com, in which I observed, "Crawford is expert at delivering the verse, and his 'I banish you' speech is electrifying; even the rain paused briefly at this moment, seeming to yield to a presence that expanded out from Crawford's self through this impassioned oration."
"On stage, he was simply mesmerizing, and in person, he was warm, welcoming, and caring to everyone he met," says a tribute on the Palm Beach Shakespeare Festival website. "His sense of humor was brilliant and sharp; his wit was even more so."
Other Shakespearean roles for PBSF include Pericles, Brutus, Falstaff, Othello, Hamlet, Benedick, Leontes, Macbeth, Mercutio, Touchstone, Petruccio, the Dromios of Syracuse and Ephesus, Sir Andrew Aguecheek, Romeo, Orlando, Duke of Clarence, Lysander, Ferdinand, and Sebastian. He starred in three PBSF world premieres: as the title character in Edgar: The Life of E.A. Poe; as early Florida explorer Jonathan Dickinson in The Vanished People; and as the murderous Lonely One in the musical adaptation of Ray Bradbury's Dandelion Wine, a dramatizations of Bradbury's Martian Chronicles. He also acted with the Georgia Shakespeare Festival.
His directing and co-directing credits for PBSF include Shakespeare's As You Like It that toured to Palm Beach, Broward, and Dade Schools, Cardenio (The Lady's Tragedy), Twelfth Night, The Taming of the Shrew, The Comedy of Errors, Hamlet, Othello, The Merry Wives of Windsor, Julius Caesar, Much Ado About Nothing, The Winter's Tale, and Pericles. He also collaborated with Christman on Samuel Beckett's Play. For the Shakespeare Institute Players, who make their theatrical home at The Shakespeare Institute in Stratford-upon-Avon, Enland, he directed and performed in The Comedy Of Errors, a production the Stratford Herald praised as "brilliant," "hilarious," and comparable to the work of the Royal Shakespeare Company. Crawford also had an extensive stage history with PBSF's sponsoring collegiate institution, the Eissey Campus of Palm Beach Community College.
Crawford earned his doctorate in 2005 from the Hudson Strode Program for Renaissance Studies at the University of Alabama, where he taught for seven years. In 2007, he became a professor of English and theater at Reinhardt College in Waleska, Ga. His publications have addressed racism in Titus Andronicus, necrophilia and masculinity in Thomas Middleton's The Lady's Tragedy, the grotesque in The Winter's Tale, and the difficulties and joys of producing outdoor Shakespeare in south Florida.
"We are all devastated," Karen Chandler, who played Volumnia opposite Crawford's Coriolanus, wrote in an e-mail to Shakespeareances.com. "Having deep conversations about Shakespeare with him was a joy I hadn't experienced since grad school, and performing with him nightly was one of those memories actors cherish forever for its genuine quality."
December 5, 2013
If you have Shakespearean news to share, e-mail editorial@shakespeareances.com