First Folio Theatre
In Memoriam: Alison C. Vesely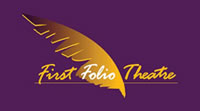 After First Folio Theatre Co-founder and Artistic Director Alison C. Vesely learned in early 2015 that she had ovarian cancer, she maintained her artistic spirit. Not only did she turn her subsequent contention with cancer into an adventure to share with her audience (via a journal on Facebook), she never wavered in her work and commitment to her suburban Chicago theater: She directed five plays there in the 22 months since. Earlier this month when doctors told her the cancer had "returned to her brain with speed and vengeance," as her husband, David Rice, wrote in a Facebook post, she ordered Rice, First Folio's executive director, to pick up pen and paper as she dictated plans for turning over to other directors the helm of upcoming shows and brainstormed ideas for 2017.
Vesely died on Nov. 25. She was 59. She leaves behind her husband; a daughter, actress Hayley Rice (who co-directed a production of The Winter's Tale with her mother); a theater community of devoted actors, designers, fans, and critics; and First Folio Theatre on the grounds of the Mayslake Peabody Estate in Oak Brook, Illinois, west of Chicago.
"By many accounts, there was no happier place in town for an actor or designer to work, and no kinder or more compassionate director than Vesely, who assembled a family of artists on those historic grounds," wrote Chris Jones, chief theater critic for the Chicago Tribune, in a Nov. 28, 2016 obituary. His article quotes Rice saying, "The key to Alison was that she knew that nobody gets rich by doing theater, so she always insisted that it must be fun."
"I can testify that it wasn't just the actors who feel like family at First Folio; we audience members have always felt like family, too," said Shakespeareances.com reader Lorraine Davis. "Alison and David were ever bighearted. And that made all the difference to my family's love of Shakespeare. We will miss her very, very much."
Ms. Vesely died at her Clarendon Hills home. She grew up in that Chicago suburban community and made her theatrical debut with a small part in a grade school production of The Music Man, according to an obituary in the Chicago Sun-Times. She graduated from Illinois Wesleyan University and met Rice, then a high school teacher, in a community theater in Lisle, also a western Chicago suburb. Their marriage in 1981 started a 35-year partnership that continues even after Ms. Vesely's passing, as evidenced by that notepad of ideas Rice has in his possession.
Ms. Vesely became the classics project director for Footsteps Theatre, a woman's theater company specializing in all-female productions of Shakespeare's plays. She also directed and acted in several of the productions, with her performance in the title role of Macbeth earning her an After Dark Award, an annual recognition of excellence in Chicago theater.
Her vision, however, was to the open skies of the west—specifically, Chicago's ever-growing western suburbs, which Ms. Vesely felt was rich territory for a theater company focused on the classics, Shakespeare in particular. When she and her husband learned that the Mayslake Peabody Estate was looking to become an arts center, they approached the estate about setting up a resident theater company there. Thus was First Folio founded in 1997, staging Shakespeare in an open-air theater on the grounds. With remodeling of the mansion itself later providing indoor theater space, First Folio became a year-round operation and expanded its offerings with more modern fare.
Ms. Vesely also has directing credits at Wayne State University and Hilberry Theatre, both in Detroit, Michigan. She has been an adjudicator for the Kennedy Center American College Theater Festival and the Irene Ryan Awards, and she served a three-year term on the Theater Program Grants Panel for the Illinois Arts Council.
A public memorial service is planned for February. No date has been set yet, except that it will take place on a Monday; that's among the notes she gave her husband. With area theaters dark on Mondays, Rice told the Tribune, "Alison wanted to be sure that all the theater people would be able to come."
December 3, 2016
If you have Shakespearean news to share, e-mail editorial@shakespeareances.com